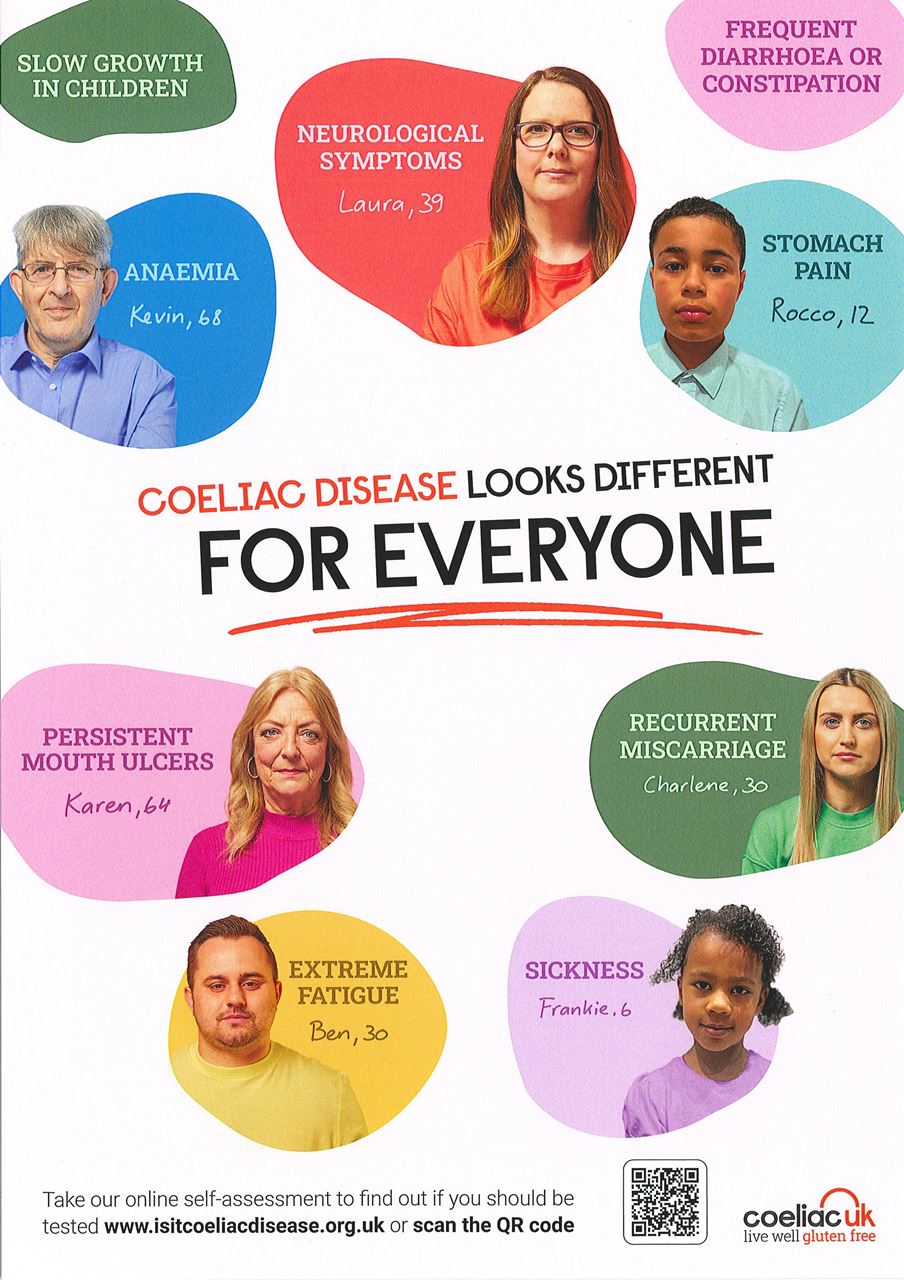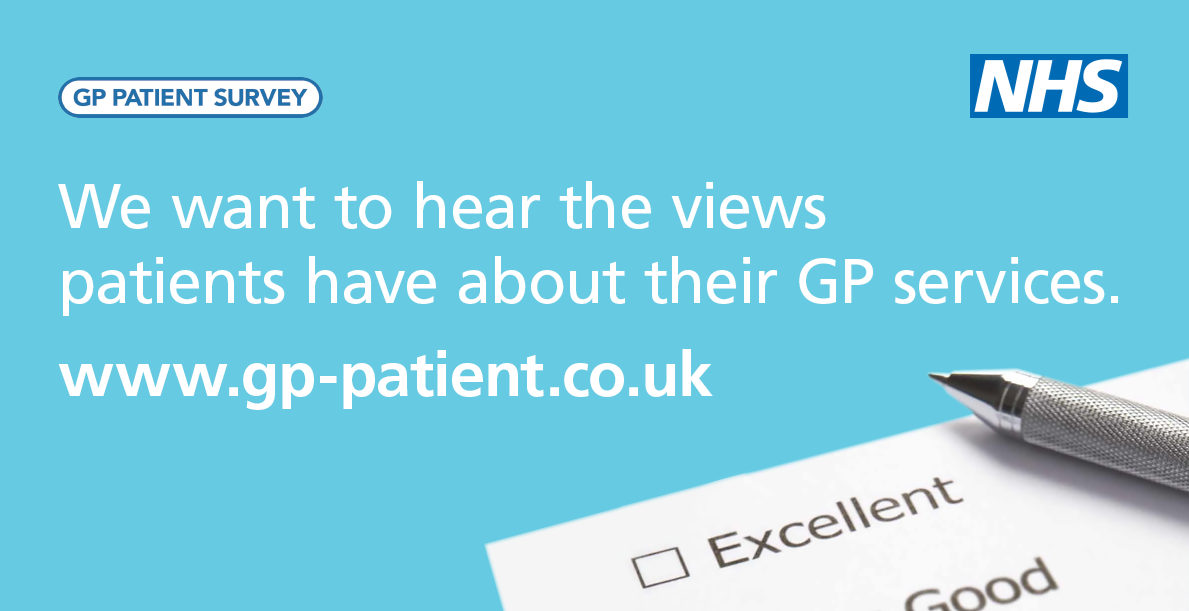 GP survey poster
2023 GP Patient Survey
Have your say on the way your local GP services are working
Around 2.4 million people, aged 16 and over, who are registered with a GP practice in England will receive an invitation to take part in Europe's biggest patient experience survey in early January. The answers we get help the NHS to improve local health services for people like you and your family. It is important that we hear about your experiences even if you haven't visited your GP practice recently, or if you have filled in a questionnaire before.
The invitations go out mostly by letter to a random selection of people who have been registered with their GP practice for at least 6 months. The survey team at NHS England will follow this up with a text message reminder (where a mobile number is available) alongside further paper questionnaires to encourage as high a response rate as possible.
If you receive a survey, please do take the time to take part.  It provides vital information to the NHS to identify what's working well and what can be improved. It helps to identify inequalities in experience too, as the results can be analysed across different protected characteristics.
If you want to check out how your practice faired in last year's survey, take a look at the survey website: https://gp-patient.co.uk/practices-search
Devon and Cornwall Care Record
New shared record system for Devon and Cornwall
A new NHS and social care system has been introduced in Devon and Cornwall to improve the way you receive care.
The Devon and Cornwall Care Record is a secure computer system that brings together information about your health and care and presents it as a single record.
Previously, it was difficult to share information about your health and care between different areas of the system.
Now, healthcare staff can see the details held by GP practices, hospitals and other health and care organisations across Devon, Cornwall and the Isles of Scilly.
Having a more complete view of your medical history helps healthcare professionals identify problems more effectively and make quicker diagnoses. For instance, they can see which allergies you suffer from, and any treatment and medication you have received.
As well as making treatment safer, the care you receive will be more co-ordinated, giving you a smoother journey through the health system.
It also saves staff the time it takes to find information and spares you the frustration of having to answer the same questions or undergo duplicate or unnecessary tests.
Dr John McCormick, GP and Chief Clinical Information Officer at Devon Clinical Commissioning Group, said: "The Devon and Cornwall Care Record has the potential to transform the way we care for patients in our region.
"By enabling information to flow more easily between the organisations that provide services, we will produce a more efficient system and improve the experience for patients.
"For example, it means an oncologist treating a patient for cancer in Plymouth can see the same information as their GP in Callington."
John Garman, Chief Clinical Information Officer at Kernow Clinical Commissioning Group added: "It's a common – and justified – grumble from patients that they have to repeat their stories and answer the same questions as they move through the system.
"This programme will go a long way to solving that problem, as well as cutting down on other inefficiencies – like calling patients for tests they've already undergone.
"Initially, some organisations will both contribute and use data (including GP practices, acute hospitals and social care providers), while others will just use data.
"However, in time, more and more organisations will come on board, expanding the programme's reach and impacting the care of increasing numbers of patients."
Who is involved?
There are more than 760 health and care providers in Devon and Cornwall and, potentially, all of them can participate in the programme.
These organisations include GP practices, NHS hospitals, social care services, mental health services, hospices, community care services and out of hours services.
If you would like to know if one of your health or social care providers is participating in the programme, you can ask them directly or check the participating organisation list on the Devon and Cornwall Care Record website..
How do we keep your data safe?
Keeping your personal data safe is a key aspect of the Devon and Cornwall Care Record and all required measures are taken to keep information secure and confidential.
Shared care records are subject to UK data protection legislation. They can only be viewed by people involved in your care, and they work under strict codes of conduct.
However, if you would prefer that your information is not shared in this way, you can tell us by filling out the objection form on the data security and privacy page of the website.
Where can you find out more?
For further details, visit the Devon and Cornwall Care Record website at www.devonandcornwallcarerecord.nhs.uk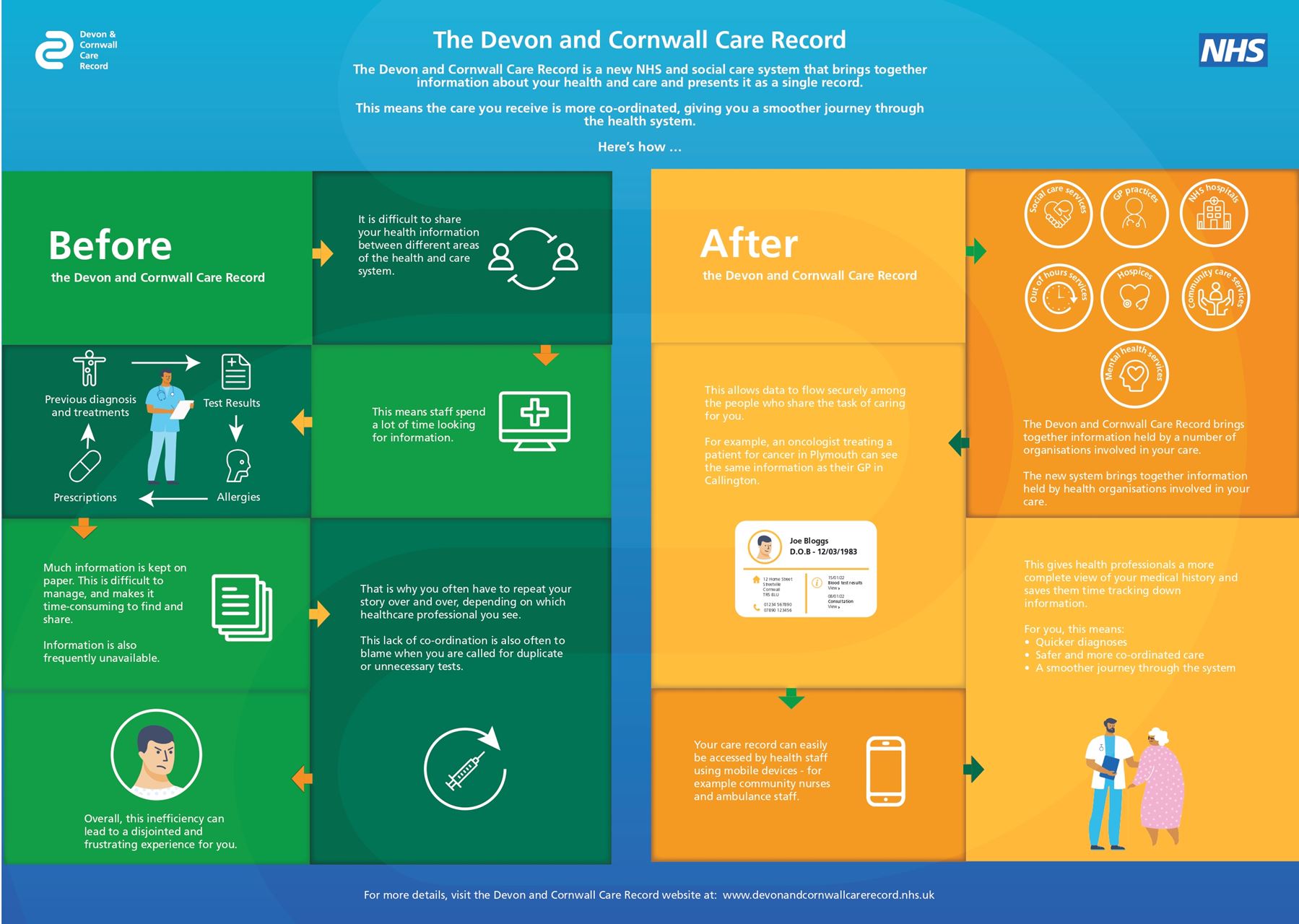 National Data Opt-Out
National Data Opt-out
There have been posts on social media with false information about opting out of sharing your data with the NHS.
Here's what you need to know:
There is no 30 September deadline for opting out of sharing your data. You can opt out at any time.
NHS Digital will never sell your data.
There are strict rules about how NHS can use your data. It's only shared securely and safely.
Shared data helps the NHS. It has been used to find the first treatment for coronavirus and for vaccine research.
Read NHS Digital's response to the false information about the national data opt-out
There are two types of opt-out options you can sign up for, the National Data Opt Out and Type 1 Opt-out:
National Data Opt Out means that NHS Digital will not share any confidential patient data it holds but will collect data from your GP medical record to use for its own service planning and research purposes. To do the National Data Opt Out, register your preference at https://www.nhs.uk/your-nhs-data-matters/ This was previously known as the Type 2 Opt Out.
Alternatively, you can call 0300 3035678 for more information.
Type 1 Opt Out means NHS Digital will not collect data from your GP practice. To do the Type 1 Opt Out, click HERE to complete the attached form and return it to us via our reception team or by email chelston.hall@nhs.net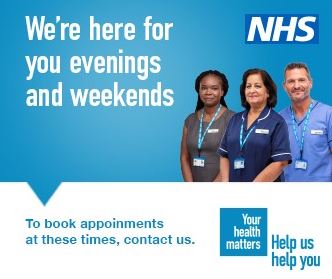 Enhanced Access
Monday — Thursday Enhanced Access
Please read for more information regarding our Enhanced Access Service for evening and weekend appointments. We now offer additional evening appointments for our patients. These are different to the appointments some surgeries in the South Devon and Torbay ICB area currently offer in the evenings. This is a requirement (known as Enhanced Access) where practices ensure that across the week, Monday-Thursday, a practice in their area is open from 6pm-8pm. To access these appointments, please continue to contact your registered practice.
Weekend Enhanced Access Service
We will also be offering weekend appointments situated in a central hub location. The hub location for our patients is Pembroke House Surgery, Paignton, TQ3 2EZ. Pembroke House Surgery has been selected as the "weekend hub" as it is considered the most suitably based surgery geographically to serve 290,000 patients in the South Devon and Torbay area.
The appointments offered are booked in advance by contacting your local surgery. Patients can be seen by a GP, Practice Nurse and Health Care Assistant during these extended hours.
This service is very different to the current out of hours service, where patients contact 111 in an urgent/acute situation that cannot wait until their practice is open again on Monday. For any acute illness please continue to contact 111. This new service is just for pre-booked routine care and is not for acute/urgent/walk in situations.
Please note that as this contract is being delivered at scale across the locality, you will not necessarily be seen by a Clinician known to you from your practice.
Please see our timetable below for the dates and times of our new service.
Pembroke House Surgery, 266 Torquay Road, Paignton, TQ3 2EZ
Fridays - 6.00pm—8.00pm
Saturdays - 8.00am—6.00pm
Sundays - 8.00am—2.00pm
Consent:
Who will we share your information with?
As part of our Enhanced Access, Chelston Hall patients will be able to book evening and weekend appointments, both here and at other local GP Practices. This will benefit you as a patient as it ensures that there are more appointments available to you at times that are more convenient out of the practice's usual hours.
To ensure that the clinician has full access to your medical records, when you book your appointment you will be asked to consent to sharing your medical records to ensure an effective and safe service. Sharing occurs electronically through our clinical system and only occurs when you choose to book an appointment at another practice. You will be reminded of this when you book the appointment and your consent to share your medical record is taken.
Your data will be kept secure using the same clinical system used to access your medical record when you visit us for an appointment. The clinician you visit will be required to gain your consent prior to accessing your record. If you change your mind and do not wish to consent, the clinician will only be able to access your Summary Care Record. This will contain limited medical information and will restrict the care that you can be offered. We will be notified of your record being accessed and of any changes made to your medical record. We will review this to ensure any follow up is actioned.
The practices who could be involved in sharing your data are: Brunel Medical Practice, Catherine House Surgery, Chilcote Surgery, Compass House Medical Centre, Corner Place Surgery, Croft Hall Medical Practice, Dartmouth Medical Practice, Leatside Surgery, Mayfield Medical Centre, Old Farm Surgery, Parkhill Medical Practice, Pembroke House Surgery, Southover Medical Practice and St Lukes and Greenswood Medical.
If you have any concerns about this or object to the sharing of your medical record in this way, please speak to one of our reception team, who will be able to record your decision and change the settings for your record.
Thank for you your co-operation and support and we hope you make full use of this service.
Parking
Pembroke House Surgery:
Outside the surgery there is street parking available. If there are no spaces there is a council car park directly opposite the surgery.